GroundWork group 4th Annual Conference Summary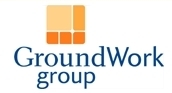 Here's What You Missed...
...if you weren't at GroundWork group's 4th Annual Nonprofit IT Conference October 2.
"Each of the breakouts I attended was very current & relevant" -from conference evaluation form
"Thanks for organizing, it was a great day!" -from conference evaluation form
"Good sessions, great networking" -from conference evaluation form

Can Microsoft help your organization save money in tough economic times? YOU BET! Mike Brevard, a Director in the Microsoft Heartland District, shared the Microsoft solutions to lower your cost of doing business through strategic use of Information Technology and innovative delivery.
Want to save on travel & communication expenses?

Try web/video conferencing & unified communications.

How about minimizing facility costs?

Unified communications & collaboration allow you to spend less on IT support as they reduce the amount of equipment necessary to conduct your business.

Eliminate non-profitable projects -

Dedicate time to project & portfolio management.

Can you cut up front & operational expenses?

Try online services.

How can you save money on software licensing?

Strategic licensing choices such as subscriptions, volume licensing, vendor consolidation & financing!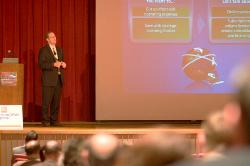 $9.5 billion dollars in Research & Development in FY 2010 - that's the Microsoft commitment to bringing you innovative solutions such as low-cost computing, products supporting corporate environmental sustainability and cloud computing.

Effective Ways to Direct Traffic to your Website
"There is no point having a website if no one can find it." - Jennifer Ridenour, CEO, People To My Site.
Quick tips for On-Site Search Engine Optimization (SEO) - changes to your website to impact optimization and searchability...
Have good page titles - get ranked higher for your target keywords
Quality HTML text so that your web content is easily scanned by search engines
Meta tags - we can't see them, but search engines can - the two most important for SEO are Meta Description and Meta Keywords
Images (sometimes problematic), URLs (need attention), internal links (prevent orphaned pages), sitemaps (make it easier to find all your URLs)
Quick tips for Off-Site SEO - driving traffic from outside your website...
Inbound links moving traffic from other pages to yours - Important? Yes! - But not just any links, they must be good quality links, related to your business
Get your site's pages indexed by creating and using a Webmaster Tools account
Domain age - the older the better - the longer your domain has been in use, the more likely search engines are to send traffic your way
Domain type - certain types are generally seen as more reputable, such as .org, .edu and .gov, and generate more traffic
SEO mistakes to avoid...
Splash pages
Non-spiderable navigation menu
Flash content
Overuse of Javascript/Ajax
Framed content
Poor or no page titles
Poor URL structure
Other points to consider...
Search Engine Marketing (SEM) - paid efforts to drive traffic to your site
Online display ads
Social media marketing
Want more, www.peopletomysite.com

Marketing for Nonprofits - Social Media have changed all the rules...
The 140 character "tweet" has replaced the 2-minute elevator speech.
Reduce funding for direct mail & hard print in favor of funding web media.
Protect the brand no more. Now we want consumers to take our brand...use it...talk about it...share it.
Social media engage new and younger audiences. The stats speak loud & clear: 364 million people read blogs, Facebook has 300 million active users, 5 billion videos have been uploaded to YouTube, the fastest growing demographic on Twitter is 12 to 17-year-olds.
Must nonprofits use social media? Ric Wanetik, President of Ricochet Group, says be wise and be strategic...
Use social media to LISTEN to what people are saying about your organization
Don't forget it is a TWO-WAY CONVERSATION - go where your audience goes, fuel the conversations, satisfy the need for instant gratification, collect info on your audiences
TELL A STORY - an anecdote from one client can go further than all of your organization statistics
Any cautions?
Remember that social media usage is not a goal - it is a marketing tactic
Only use social media if you will keep your messaging lively, active & current
Develop an organization policy regarding who has access to update the account
If there's no staff time to update, get a volunteer to do it
You can't manage accounts at all sites - choose wisely - find out who is talking about you and where - go there. PS - your audiences might NOT be at the most popular sites
Where do you want to go? Hit www.mashable.com to explore your options.

Connect OHIO and Broadband Internet Access
Over 90% of Ohio residents have availability of a broadband Internet access provider, but the percentage of actual subscribers is much lower! Connect OHIO's mission is to change that.
Use of broadband can enhance community & economic development, health care, personal technological skills and the quality of our lives says Tom Fritz, ED of Connect OHIO, a division of Connected Nation, Inc.
Connect OHIO wants to connect Ohio by fostering alliances with intra-state and national initiatives, distributing info on how to deploy broadband access requests, compiling the history & projecting future use of broadband and informing everyone on nearly every aspect of broadband.
GET CONNECTED - contact Connect OHIO - www.connectohio.org

Governor's Office of Faith-Based and Community Initiatives, GOFBCI
Greg Landsman, Director of GOFBCI, relayed the message that the Governor's office wants to work with nonprofits, please get engaged, http://gofbci.ohio.gov. What is GOFBCI doing?
Distributing $7.5 million dollars each year in TANF grants (Temporary Assistance to Needy Families) to reduce poverty and strengthen Ohio's communities.
Clearinghouse for information and access to private, state and federal grants
Social Entrepreneurship Initiative. The Governor's Office doesn't have to tell you that nonprofits have taken a debilitating financial hit, and they are trying to curb the negative effects of the economy by helping nonprofits establish money-making opportunities. GOFBCI is building curricula to train nonprofit staffs, and they are pitching their ideas to national funders to bring dollars to programs in Ohio.
Currently developing a "web tool" to foster sharing among the nonprofit community. Nonprofit organizations will submit profiles, then will use information at the site to link with other organizations and collaborate on projects.
Community Engagement Partnership Grant. RFP currently active to select 6 regional partners to implement an outreach strategy, host capacity-building trainings and offer technical assistance.
GET ENGAGED - sign up for the e-newsletter at http://gofbci.ohio.gov

Doing More with Less: IT Planning & Prioritization
A panel discussion featured words of advice from the nonprofit organizations American Red Cross, Rebuilding Together Central Ohio and Make a Wish Foundation and consultant Judy Czarnecki of Centripetal Strategies. What can you do? According to our panelists...
Document, document, document - the details of your infrastructure, policies & procedures.
Keep up-to-date on your technology.
Get involved with GroundWork group.
Want more ideas?
GroundWork group Nonprofit IT Forum, second Tuesday of every month, www.groundworkgroup.org
GroundWork group eNewsletter, www.groundworkgroup.org/JoinEmail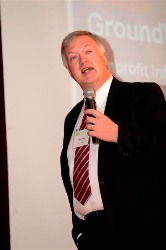 Paul King, CEO of Process Experts, wrapped up our day with poignant words to motivate conference-goers on using technology to lower their cost of doing business.
We move about our daily tasks so quickly and tactically
We need to slow down and think more strategically
We need to leverage the technology resources at hand
The challenge is to come up with new solutions. How? Think in a different way...
Different thinking fosters different actions which produce different results.
Paul reminded us of the words of Albert Einstein, "We can't solve problems by using the same kind of thinking we used when we created them."

Our low-cost 4th Annual Nonprofit IT Conference would not have been possible without our generous sponsors - THANK YOU!!
| | | |
| --- | --- | --- |
| Accenture | Battelle | Nationwide |
| Oracle | Cardinal Solutions | Franklin University |
| Quick Solutions | United Way of Central Ohio | Crane Plastics |
| Office Depot | Laptop Guy | The Columbus Dispatch |
| Trend Consulting Services | Axia Consulting | Brickler & Eckler |
| CGI | ChaseTek | Chornyak & Associates |
| ECDI | Foresight Corporation | Franklin Co. Children's Services |
| ICC | Jacadis | Ryan Partnership |
| Schnieder Downs | Micro Biz Coach | ComDoc |
| Deloitte | PayCor | Perfect Balance |
| Connected Nation | DSI | Rinehart & Richel Associates |
| TEK Systems | Intellinetics | The Huntington Bank |
| John Gerlach & Co. | | |
Mark your calendar to join us next year!!
GroundWork group 5th Annual Nonprofit IT Conference
October 15, 2010
Improvements for next year, based on this year's evaluations:
We need to make it easier for nonprofits to send more folks
We need to provide more handouts
We need to offer more sessions
We need to offer more opportunities for networking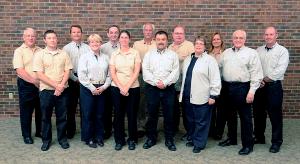 The GroundWork group Team
Follow GroundWork group on